Bully Stoppers provides advice, strategies and interactive learning modules for teachers to support the safe and responsible use of digital technologies in the classroom.
ICT Planning The resources here will help you develop an ICT Plan as an integral part of your School Strategic Plan and Annual Implementation Plan.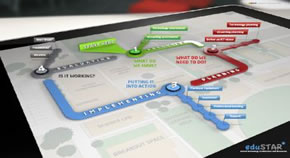 eSafety Commission Classroom  has developed Multimedia and lesson plan resources for primary and secondary school educators.
Student Engagement Policy Update your school's policy with student support to ensure it is all "cybered up". Some students have real world knowledge of technologies and the issues they can present. Respecting student voice will provide ownership to school policy decisions.
The Digital Deck provides a quick overview of the range of digital resources available to schools. The deck starts with an eduSTAR overview then explores other resources and methods along the ePotential continuum. 

Using Social Media: Guide for DET Employees   This module is based on guiding principles of behaviour that are applicable under existing Department policies and guidelines. It will assist teachers to better exercise their professional judgment. The module should take 30 – 60 minutes to complete and can be completed over multiple sessions.
Planning a Parent Information evening If you are introducing new technology or online spaces  or just reinforcing the schools approach to digital learning. This film outlines an approach which involves students researching, planning and presenting the evening. There are more resources in  Working with parents on the DET website.
Bullying discussions for teachers
This is the third in a series of four videos about student bullying. Dr Michael Carr-Gregg talks about how teachers can respond to students who are bystanders to bullying. Queensland Education department have produced this series. They are hosted on YouTube and well worth watching.

https://www.youtube.com/watch?v=sq18u1Ee9fM